Top Provider of Electric Forklifts for Hire
The best place to hire a forklift throughout Melbourne, Victoria and Australia. Gain peace of mind when it comes to hiring, with the largest independent provider in the state.
Established in 2009, we have grown to become one of Victoria's largest independent forklift hire and sale companies. From new and used forklifts for hire, to servicing and spare parts, as well as huge fleet of forklifts for sale, we have all your needs covered. We have extensive experience and knowledge of all brands and models, including Toyota, Komatsu, Crown and many more. We're proud to offer clients a one-stop shop for forklift hire.
You can be assured of the best quality products and services, whether you are looking to hire, buy.
Forklifts For Hire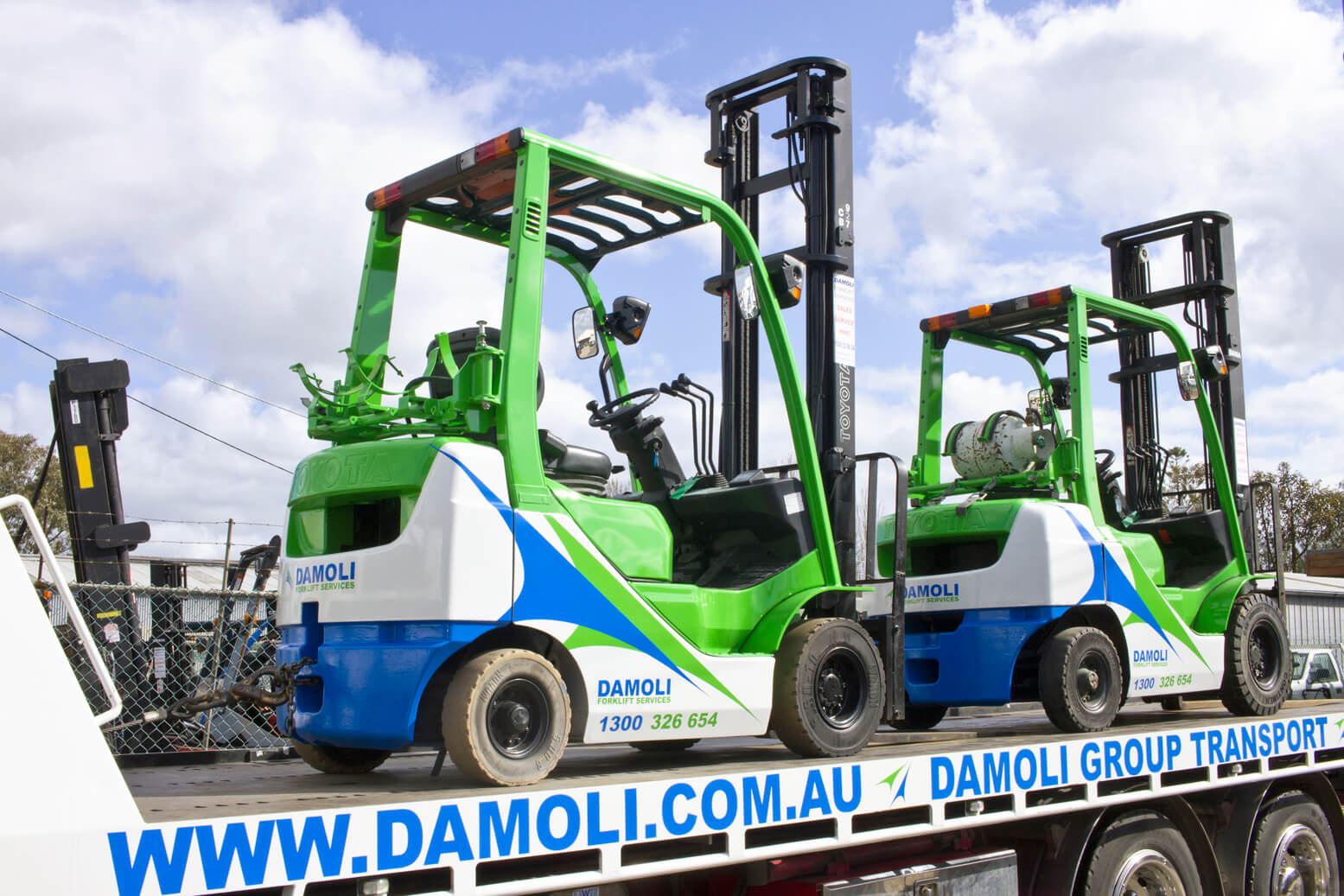 Competitive Prices on Electric Forklifts for Sale
Get the job done right the first time around with Damoli's solutions for both new and used models.
When it comes to forklift sales, it's important to find a reliable dealer who you can trust to provide a value-for-money solution. Here at Damoli, that's exactly what we offer. 
We have a complete range of used forklifts for sale, ranging from 1.3 tonne to 3.5 tonne, including LPG, diesel and electric models and pallet movers.
We have machinery available for all manner of jobs, large or small, with high reach forklifts and specialised scissor lifts available. Our machinery options are all from reputable brands – including Toyota, Daewoo, Hyster, Mitsubishi, Nissan, Komatsu and Crown. All of our used forklifts are available in all sizes and capacities and can save you plenty of money with a quality product at a fraction of the price of a new model.
Brand New Electric Forklifts For Sale
Australia's only supplier of BYD Forklifts: cleaner, smarter, safer.
Optimised battery and charger selection enables full charge in 1-2 hours (dependent on application).
Efficient and cost-free battery.
Maintenance free, zero electrolyte topping required, no cells caps or pipes to replace.
Up to 15 years operational life with limited reduction in capacity.
Part charges can be made without detrimental effect to battery life expectancy, no memory effect.
No risk of fire or explosion.
Smaller, lighter batteries provide maximum comfort for operator and maximum strength to truck chassis.
No harmful emissions or flammable gases are produced during charging.
All substances used are 100% environmentally friendly.
Longest battery warranty in class, 8-years or 10,000 hours, (whichever comes first.)
Forklifts for sale
Why Choose Us for Your Forklift Needs in Melbourne?
Reliability – we provide well-maintained, up-to-date models that will boost safety and efficiency in any workplace. Over the years, we have helped many happy customers with new and used forklifts for a wide range of applications throughout Victoria.
On-Going Support – whether you purchase a forklift, hire a forklift for a one-off project or frequently rent from us, our professional team provide all the assistance and support your need, ensuring you get the right machine for you needs and budget. And, if anything goes wrong with your forklift, we promptly assist with emergency repairs or replacement to get you back up and running quickly.
Value for Money – We deliver the highest level of equipment and services at the best possible rates, understanding the importance of your bottom line.
Need to Buy or Hire a Forklift? Melbourne and Victorian Business Can Rely on Us
Damoli is an independent forklift supplier with many years of qualified industry experience. Australian owned and family operated, we are here to help with short and long term forklift rental as well as other cost effective services and solutions. To speak to one of our professionals, call us today on (03) 8362 9025 or enquire online now.
Our team of professionals are always willing to answer any questions or queries you might have about our service or about the type of forklift that is best for your needs. This commitment to your satisfaction is what sets us apart from other companies in the area.
We want you to know how much we appreciate the excellent service Lisa and Daniel provided.. Your attention to detail, great communication skills, and ready smile made the experience even better than I expected. I won't hesitate to bring future clients to your establishment.
Freelan Australia
06:06 31 Mar 21
I highly recommend you see Lisa from Damoli forklift if you are intending to purchase a forklift, as she went that extra mile to provide me with great customer service, patience and professionalism in selling me a second hand reach forklift. Thank you once again very happy with purchase.
Carlo Marek
09:23 25 Mar 21
We have two forklifts on long term hire at the moment. Very competitive prices and have been a dream to work with.
Jack Edwards
00:08 17 Mar 21
Purchased a Forklift, for our Storage Facility in Keilor which we needed on site asap and it was delivered the next day. Very impressed with the service provided at Damoli, also called Lisa a few times with some questions and she was super helpful. Thanks for making things easy for us.
Smart Storage World
00:17 11 Mar 21
Reuben and the team at Damoli's have been an exceptional help to us and our business. Quick & efficient service, competitive pricing & an easy team who make the entire process seamless and Straightforward.
CASSA Anti-Microbial
03:56 02 Mar 21
It was great to have the job completed with little fuss at an excellent price, just terrific service overall from Reuben and the Team at Damoli Forklift Services. I am more than happy to recommend them from our experience, and we will be a return customer when the need arises, that's for sure! Ryan O'Connor - General Manager - King Island Distillery
Ryan O'Connor
23:44 24 Feb 21
Great service and communication.Lisa was a pleasure to deal with. She was Very helpful and highly recommend them to anyone needing there services.
Manny Cantsilieris
00:50 11 Feb 21
Great customer service. Jordan was straight up and honest when talking about all used forklifts for sales. Highly recommend them for anyone coming into the forklift game for the first time. I came away with a second hand forklift that I feel really comfortable about. Thanks Jordan and team at Damoli Forklifts.
Andrew Green
09:55 04 Feb 21
Great service !! highly recommend !!I shopped around for a second hand forklift and found Damoli was very competitive on price.
Design Task
09:39 03 Feb 21
These guys are professional and provide the best advice regarding forklifts. Lisa was very helpful and provided us with the best solutions. I will recommend Damoli forklifts to everyone who needs a great service and quality products.
Exceptional service and very prompt communication.Lisa was absolutely fantastic to deal with and was very accommodating.Purchased a used forklift and arrived in better condition than expected. Everything was in great condition.I will be using them for all servicing etc going forward.
Jeremy Capon
09:13 02 Feb 21
I shopped around for a second hand forklift and found Damoli was very competitive on price. Whilst there was not much info available on the history of my preferred unit, Lisa was very genuine in her advice and pitch and organised a battery check to provide peace of mind. I recommend!!
Scott Pendlebury
00:20 02 Feb 21
Very reliable, quick service assisting Western Emergency Relief Network (WERN) to relocate our machinery and kept delays to our operations to a minimum. Louie was most obliging and even came with a smile. Five Stars Damoli. 😊😊😊😊😊😊😊
Ross Butterworth
05:24 19 Dec 20
Recently purchased a gas forklift. They were a pleasure to deal with, very helpful, fantastic service. They spent great effort to find what I wanted. I would highly recommend Damoli Forklifts.
Lucie Oude-Meilink
02:58 27 Nov 20
Customer service is excellent. The lady I spoke to was really friendly, informed and helpful.
Kate Orridge
22:28 25 Nov 20
Damoli are an amazing company that partner with us as a charity providing help to families in need. Daniel gave exceptional service providing a good quality 2nd hand electric forklift for our warehouse needs. I would definitely recommend Damoli for your forklift needs. Thank you again. Daniel.
John Graham
19:56 04 Sep 20
Recently bought a used gas forklift from Daniel and the team. Pleasure to deal with, efficient service, followed through on all my requests during the process and the forklift is in excellent condition for its age.
Dean van Huizen
10:17 13 Aug 20
What an absolute pleasure it was to have our forks serviced by Damoli. Super fast response time, especially considering I gave them about 2 seconds notice. I'll be getting all of my forks serviced here from now on.Well done guys and thank you so much!
Mack Blunsom
01:19 20 Jul 20
friendly helpful and on time delivery the forklift,should be good service later.
We recently traded our old forklift for a new one and we couldn't be happier. The service from on site servicing and repairing our old forklift to purchasing our new one is nothing but fantastic. Thank you team! We also look forward to attending your forklift training soon.
Serana McNicol
00:22 08 Jul 20
Great company, really good customer service, great prices, fantastic after service highly recommend to all
Judy Holroyd
05:44 17 Jun 20
Fantastic to deal with, spot on customer service as well.
Signarama Artwork
06:07 27 Apr 20
If you're looking for efficient and friendly customer service then you've come to the right place. Reuben top guy helped me promptly get the order done at hand. Would recommend +++
Tarquin Reti
03:27 27 Apr 20
Needed a forklift hire. Got much more than that.I dealt with Ruben who's knowledge and cheerful attitude made my week. He not only helped me but also my business by getting the right gear for the job.I look foward to any future dealings with Damoli.
James Gurnell
01:13 25 Apr 20
Great service! Dealt with Reuben who made the whole experience so easy, highly recommend.
gary dalbeth
14:57 24 Apr 20
Efficient, friendly service from a great team. great processes and staff in place to ensure customer satisfaction. Would highly recommend.
Raymond Naea
07:13 24 Apr 20
Had a great experience with this brand, spoke to the new hiring specialist who was very helpful & also really friendly, would recommend.
Astley Talks
03:06 24 Apr 20
Fantastic service, Reuben is a top bloke and knows his stuff, will recommend to others
Pernell Callaghan
02:36 24 Apr 20
Damoli offer fantastic service and forklifts! Once you hire the unit the service continues. I would not hesitate at all to recommend these guys!
Great service! So convenient to have Damoli come to my business and maintain my forklifts. It really keeps downtime to a minimum!Can not recommend highly enough!
The staff are always excellent to deal with, and go above and beyond to help you out. They offer a great all round service. Would highly recommend them!
Janessa Ganci
11:16 20 Apr 20
Great team to deal with, exceptional service and price
Kerry Trott
05:20 08 Apr 20
Daniel , Sam and their team are a true asset to those in the Transport industry. Hassle free and very knowledgeable made our continued business so much easier. I could not recommend any company more than Damoli.
Great team to work with to get the job done. No problems at all, every task I asked for has been delivered on time and everything works very well! Cheers Damoli
Reuben Dalziel
03:19 08 Apr 20
Great customer service, I bought a Toyota electric forklift and the whole deal was great.Thank you guys!!Austin
Austin Glessner
23:28 07 Apr 20
Jason and Ben were great to deal with. I originally purchased a forklift unseen. When I did get down to inspect, it wasn't quite what I was after. Jason returned the fork, no questions asked and replaced it with something more appropriate with a great discount to go with it. I would highly recommend this company. AAA for customer service. It was a pleasant change to some of the companies I have to deal with in Victoria. Keep up the good work boys. Cheers Con-Treat Victoria
Adam Bellew
04:29 12 Nov 19
A absolute pleasure to deal with I'm very happy with our new fork lift and completely blown away with the customer service A+++++++
Roger Skimming
06:36 21 Oct 19
Just purchased a Hyster fork. The service and customer service has been really good. Very good to work with a company that does what it says. Thanks. Arthur.
arthur parish
15:18 07 Oct 19
Great customer service and reliable team. Thank you so much for your help, will definitely use again!
Chris Carland
15:18 07 Oct 19
After a lot of bad precoupr experiences damoli forklifts were great, amazing service the best place for forklift sales in Melbourne
robert de burgh-day
15:18 07 Oct 19
Delivered on same day as enquiry. Best hire price around and brilliant service. Highly recommend the guys at Damoli Forklifts!
Andrew Lowe
15:18 07 Oct 19
Great to deal with and fantastic service... we highly recommend Damoli Forklift Service's. From the team at Buildpro Geelong.
i would like to say, that Daniel at Damoli Forklift Services, was so pleasant to deal with, he came to our rescue, i have no hesitation in recommending this company, and make Sure you speak to Daniel i would rate my experience as 11 out of 10 Excellent. Thanks once again Daniel
highly recommend the service team, very professional, they got my forklift up and going within 2 hours of it breaking down 🙂
Thanks, Damoli for the next day service when booking my forklift in for an emergency service, guys were on time and very helpful. Got my forklift going A1 again.I highly recommend the team at Damoli for all your forklift needs.
Great bloke. Top management staff and friendly service!!
Gr8 company to deal with, very professional. Highly recommended.
Great company, really good customer service, great prices, highly recommend to all
The very best service guaranteed as one of the top forklift companies
If you're searching for forklift companies in Victoria and Melbourne that offer exceptional quality customer service as well as unparalleled machinery, Damoli is for you. We value customer satisfaction above all else and our trained staff offer the highest standards of service. If you are after a new piece of machinery, our team of qualified mechanics will ensure that your material handling equipment is reliable and in safe working order. Whether you want one model or 100, we provide the same high-quality service at all times.
We ensure that we are affordable and always reliable, so you can always count on having the best experience when you buy or hire a forklift with us. No matter where you are in Melbourne or Geelong – whether it's Laverton, Melton, Sunshine, Hoppers Crossing, Epping or Campbellfield – we come to you.
Delivery to your door – Australia wide
We know that transportation can be a complicated, expensive and time-consuming chore. That is what we have taken that out of the equation for you, with our delivery service for all new machinery and forklift rentals in our range. We will deliver a fully serviced and maintained machine to your business premises or job site to take the hassle out of purchasing or hiring a forklift.
These are just some of the ways we will go the extra mile to deliver A1 customer service to our clients. We want to build enduring relationships with all of our customers and provide an end-to-end solution in all instances.
Pick up the phone and call us today on 1300 326 654 to speak with one of our helpful and friendly staff. Alternatively, use our online contact form and we will get back to you as soon as we can.