Learn about the history of the forklift for your next pub trivia quiz.
Could there be a better time than now to increase your knowledge?
The forklift has quite an interesting history. One you probably didn't know about.
It is now one of the most essential pieces of industrial equipment. But the forklift was initially known as the fork truck before the famous Clark Company patented it in 1917. Before that, no-one really knows who actually came up with the idea. But we do know that it started out as a gas-powered prototype that has since seen a number of renditions.
The original featured wrought-iron axles and cast iron wheels. It barely resembles the modern-day forklift.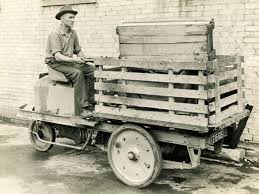 Forklift design has really changed
While we can't be sure who invented the forklift, we do know that it's invention marked a milestone in the manufacturing and construction industries.
So workers could lift heavier objects and transport them faster. Obviously this significantly increased productivity. Modern-day forklifts serve pretty much the same purpose. The only difference being that they are made from far superior materials. For example: steel, aluminium, hydraulic parts, and powerful engines. Thus they are faster and more efficient.
A good quality forklift will also have a comfortable backrest and driver cage for added safety, as well as a smaller body for better mobility. Warehouse operators are also spoilt for choice with the availability of eco-friendly electric models which can lift heavier than battery-powered forklifts.
So Who Produces Them Now?
Toyota, Crown, Hyster, Mitsubishi, Kion, the list goes on. Whatever your favourite model is, there are plenty to choose from. It's nice to know that they've come so far to become one of the most common types of equipment in industry and construction.
Not sure where to get started? Damoli is a one-stop shop for Forklifts Hire or Sale. Speak to our team on 1300 326 654 today.
Damoli Forklift Services offer one-stop shop for forklift hire, sales and servicing. We have a wide range of gas, diesel and electric forklifts ranging from 1 tonne right through to 45 tonne container handlers. We also have high reach forklifts and specialised scissor lifts available.